Dynamic Balancing Services
Unbalanced rotating components, such as rolls, impellers, fans, armatures and shafts, can cause excessive noise, vibration, overheating and shortened bearing life or even, shortened machine life. So whether your balancing needs are large or small, complex or simple, Newton Machine Company can handle your job with ease and efficiency.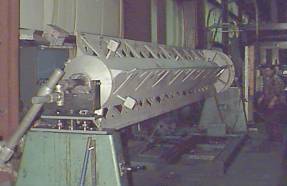 Factory trained personnel and state of the art balancing equipment, teamed with our machine shop capabilities including a complete line of welding equipment, allows us to offer customers a one-stop, comprehensive balancing facility.
Our balancing equipment can facilitate pieces up to 13 tons/26,000 pounds, 90 inch in diameter, and 40 feet in length. Balancing is performed to ISO Section 1940 standards with computer generated results stating initial imbalance and final balancing results including ISO Grade compliance. Should your needs require balancing or vibration analysis at your site, we can help you there as well.